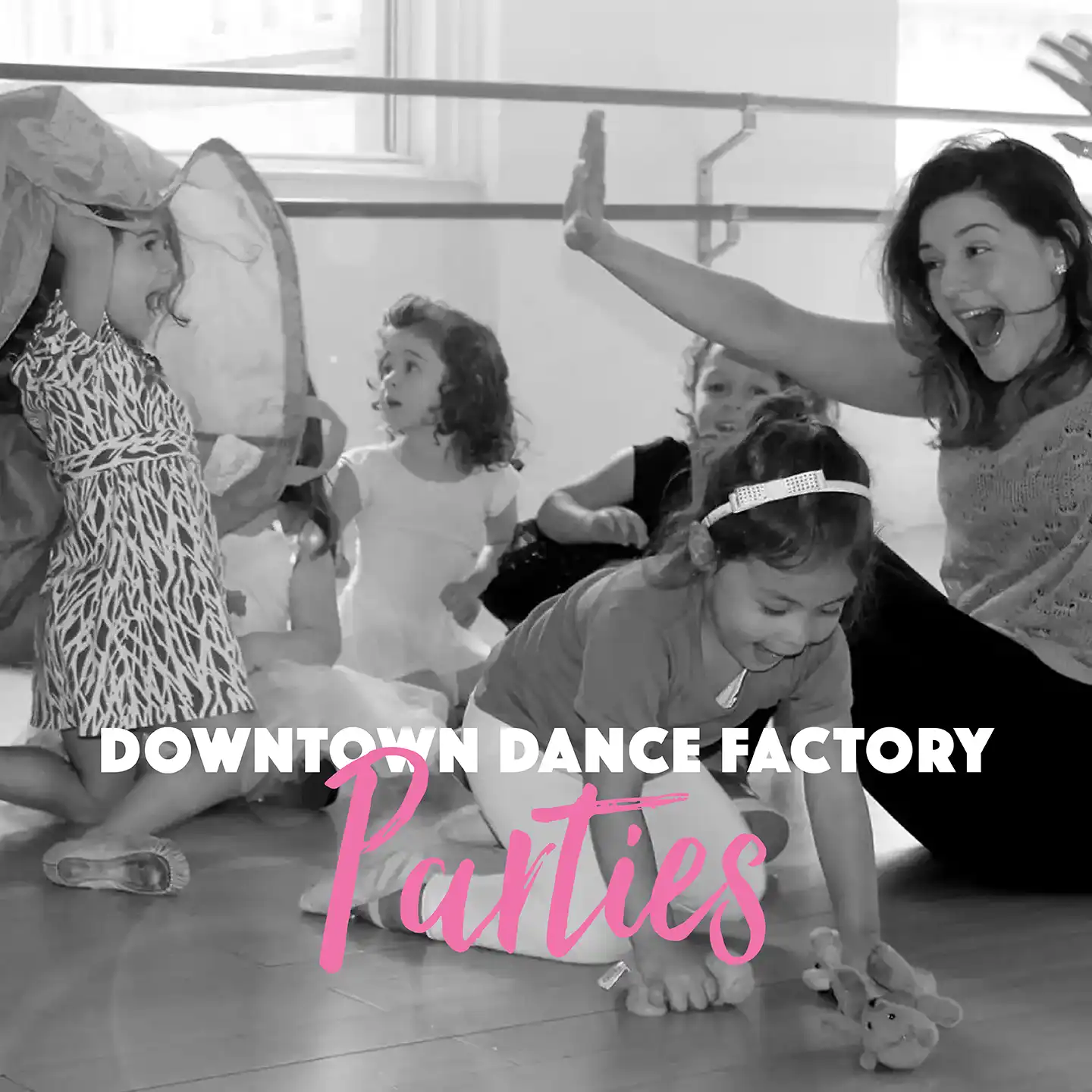 Celebrate at Downtown Dance Factory!
Our birthday party options cater to a range of ages (3+) and a range of young personalities. We create a memorable and fun dance party experience personalized for your child and their guests – all dance, no drama!
Your 90-minute DDF NYC birthday party includes over an hour of dance activities, with the remainder of time reserved for food and cake. We provide highly qualified and fun teachers and supervisors, our beautiful 4th floor studio space, all serving products, helium balloons, set-up and clean-up! You bring the food and drinks. Complete the experience for your guests with a DDF dance-themed goody bag from our Studio 4 Store!
Parties take place in September through June on Saturday afternoons and Sundays. During the summer months, parties are held Monday through Friday after 3:30pm.
We had the best party at DDF!
"With 2 little kids, I go to a lot of birthday parties. I have yet to encounter one as 'full service' as this one. It was perfect." 
- Mom of a seven-year-old DDF dancer
"The party was extremely well managed - lively, exciting, and great fun for the kids, and a very comfortable environment for adult guests as well! The studios are bright, spacious, and welcoming."
- Dad of an eight-year old birthday child
"I just wanted to say a huge THANK YOU to everyone. Our party went so much better than we ever imagined. Everyone was sooo nice and helpful and the set up was gorgeous!"
- Mom of a Block Party Jam Party parent
"We literally got compliments that whole week about how much fun the kids had and how much the parents enjoyed it." 
- Parent of a six-year old birthday child
Book your party now.
Please fill out the form below and our team will be in touch.
Pricing All prices include up to 10 guests (including the birthday child).
Joint Party Fee There will be a $50 fee for joint parties with 2 birthday children, siblings excluded.
Booking a Time Slot After being offered a party time slot, you must reply within 48 hours in order to hold this slot. The deposit must then be paid in order to confirm your event.
Deposit A non-refundable deposit of $250 is required upon booking. Your party time slot is not confirmed until you have paid your deposit.
Maximum Guest Count Downtown Dance Factory can accommodate a maximum of 30 guests (excluding adults). Additional guests, up to 20, can be added at $25/child. Additional guests over 20, and up to a maximum of 30, can be added at $35/child.
Non-Dancing Guests Allowance Three additional NON-dancing guests can be accommodated free of charge, however they do count towards the capacity.  There will be a $10/non-dancing guest surcharge over and above the first three.
Adult Guests Adults attend free of charge.